A Good Way to Invent the Future
November 16, 2019 - January 18, 2020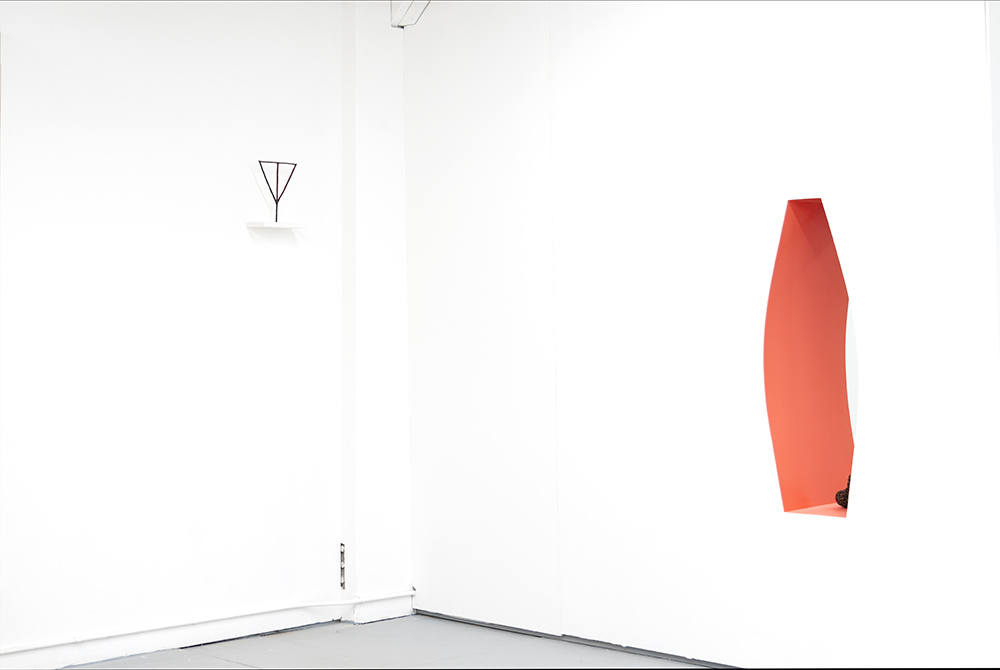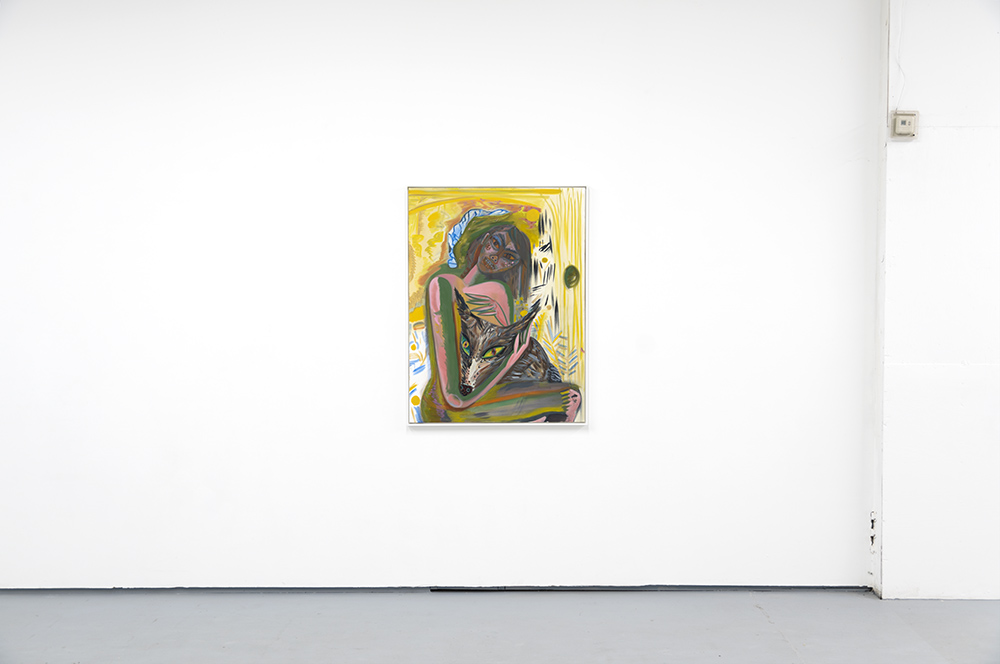 Part archive, part reading room, part installation,
A Good Way to Invent the Future
hosted the work of thirteen artists, and a series of programmed events, from November 16, 2019 to Jan 18, 2020. Structured as a "show within a show," the 2,000 square foot exhibition featured a partial reconstruction of Ditch Projects' original gallery space (active from 2008 - 2011) hosting works by founding members of the artist collective – Jared Haug, Dave Siebert, and Jesse Sugarmann – alongside a large installation of works by John and Wonhee Arndt, Tannaz Farsi, Ron Jude, Rainen Knecht, Young Joon Kwak, James Lavadour, Donald Morgan, Lisa Radon, and Stacy Jo Scott. Used books, re-printed texts and images, and sonic intervals punctuated the exhibition, circulating in and around the installed pieces. Visitors were asked to slow down, and to spend time with, and alongside, the works in the exhibition.
Pausing to reflect on Ditch Project's decade-long trajectory as an artist-run project space in Springfield, OR,
A Good Way to Invent the Future
jumped off to land sideways in a pool of designed objects and works of visual art that speak, in glances and meandering gazes, to Oregon's history as a 'white utopia' and a frontier state, with its particular libertarian leanings, punk sensibilities, and hippie counter-cultural romanticism. Sitting with these histories of the Pacific Northwest, the exhibition critically addressed the impulses of self-determine communities, sorting through the projections of desire, ownership and belonging within the landscape of Oregon. Boundaries between individual and collective, object and environment, space and place become queerer as the exhibition mapped an entangled sense of the future, with a vanishing point in the trailing fog of the past.
Programming during the exhibition included a screening of Dan Graham's 1982-84 video "Rock My Religion"; a performative reading by Stacy Jo Scott of "The Sign of the Enterer," accompanied by Jovencio de la Paz's original composition on a Moog Mother 32 system and Korg ms20; a performative reading by Lisa Radon from her new text "Age of Sand"; and three atmospheric performances by artists sunLime (Ryan Carlile and Shannon Kerrigan), Iowa (Tom Greenwood and Hannah Mickunas), and Jason Urick.
A Good Way to Invent the Future
was co-curated by Ditch Projects Co-Artistic and Executive Directors Mike Bray and Marissa Lee Benedict, and generously supported by a Documentation and Exhibition Grant from the Ford Family Foundation.
Exhibition Programming Schedule (Dec 2019 - Jan 2020)
When the water comes to light out of the well of my self
Amina Ross

Oct 5 - Nov 2, 2019
An undisciplined creator. Amina Ross creates boundary-crossing works that embrace embodiment, imaging technologies, intimacy and collectivity in physical and digital spaces. Amina has exhibited work, spoken on panels and taught workshops at venues throughout the United States. Amina's intention within a media-centering practice is to engage sensuality and sense-perception as modes of reclaiming the body. Amina is currently a 2018-2019 Artist-in-Residence at Arts & Public Life and the Center for the Study of Race, Politics, and Culture at the University of Chicago.
As an educator Amina is currently an adjunct lecturer in the Contemporary Practices department at the School of the Art Institute of Chicago and Co-lead artist of Teen Creative Agency at the Museum of Contemporary Art.
As a curator and cultural organizer Amina is curator of ECLIPSING, a multi-media festival celebrating darkness.
aminaross.com
---
Amina Ross' solo show, When the water comes to light out of the well of my self, is part of their ongoing inquiry into the mechanical and conceptual intersections of objects and the containers that give them meaning. Ross is specifically experimenting with how objects ranging from fluid to wavelengths to textiles to bodyforms come into contact with their containers—namely, time, space, and scale—in order to understand where these points of contact might be (re)shaped. Using a variety of digital and material handcrafting techniques, Ross hones in on these points of contact as deeply expansive sites where we might refigure basic networks of interaction in ways that might prompt other, perhaps more radical, ways of seeing, engaging, and feeling.
In this, Ross' technical processes of rendering objects and containers are inextricable from the understanding that black bodies and black people have been constructed as objects (particularly, instruments of labor) and containers that host a myriad of racist, classist, sexist, misogynistic, homophobic, and transphobic projections. The 3D animations, hard and soft sculptures, and photographic processes that drive the exhibition reflect Ross' multidimensional and multisurface attempts to build real and imagined environments that break down the object-container relation in ways that demand richer vocabularies for describing how inhabiting the very category of "black" looks and feels like. As each element of When the water comes to light out of the well of my self crafts a lush environment that defamiliarizes the presumed relations of objects and containers, they may also generate more liberatory modes of individual and collective well-being that are rooted in self-awareness, vulnerability, empathy, and pleasure.
Ross' queries into microgestures of connection are perhaps most potent in their treatment of the figure of the body. 3D animation software provides users with model avatars whose body shape, size, position, and skin can be molded at will. The skin and clothing of these avatars is contained in one flat jpg file: the body's contours are stretched out in a kind of gruesome sewing pattern or paper-doll cutout that will then be applied to the avatar's mold. The avatar's skin is quite literally a finish, a surface applied onto another surface to complete its decoration. In their works, Ross works with this idea of skin as finish, or as a surface in its own right, and is so able to pose points of contact that are not otherwise materially possible. In some of Ross' recent animations exhibited elsewhere we find bodies that leak into and out of one another, and we find fluids that may be solids and back again; we can sometimes see through forms that should be opaque, and forms that should be distinct and autonomous melt into one another. Here in When the water comes to light out of the well of my self we find skins mapped onto digital and material surfaces that may not fully support or contain them; maps of avatar skins and images of bodyforms are placed new scenes and on unexpected textures to render evermore complex fields of contact.
As they work within and beyond the digital, Ross is enabled to imagine and do bodies (read: objects) and their environments (read: containers) differently. They explain that "I have to work harder or be more creative in my imaginings of the potential of what a body can do in space." In the digital environment, Ross is "not constrained by gravity. If I'm not constrained by any principles in this world, what do I want to do? What principles do I want to keep?" As Ross reconfigures the boundaries around how bodies look and move—where light and liquid move across them, and in what ways they do and do not simulate "reality"—they also reconfigure the very commonsense logics of the spaces they construct to contain them. Ross' digital environments subsequently defy laws of contact that invite us to reframe our own understandings of bodily autonomy, of density and porosity, ask us in turn to reframe in our own understandings of the (sonic-spatial) conditions under which intimacy and vulnerability might surface. When you are not constrained by any principles in this world, what do you want to do? Where do you do? How do you want to feel? Where would you mesh with another _________?
Ross' productively uncouth movements through digital terrain are matched by their experiments with containers and objects in material space. They build armatures that may be able to hold, but not necessarily contain, the on-screen avatars, should they ever leave the space of the screen. And just as the digital armatures giving structure to skins can be out of scale, off-kilter, or seemingly unfinished, the armatures constructed in the gallery space pressure unhinge our own centers of gravity and senses of scale. Throughout their practice, Ross has undone the familiarity of objects like bed frames, pillows, extension cords, towels, jewelry, and construction materials by undermining their scale, texture, color, solidity, etc. In the process, they both invite yet forestall our own memory-based attachments to our surroundings. Ross' movements between animations and hard and soft sculptures thereby offer a deeply technical explorations of wildly ephemeral attachments to feeling and feeling good. At times, what we feel is the discomfort of getting up on structures that we can't quite mount, or the mental exhaustion of trying to make out singular forms that may actually be many, or the taxing work of tracking the refraction of light in an image or within an animation that casts further light across the gallery.
These estrangements within a single piece, across the gallery space, and ultimately surrounding our own senses of self are underscored by the very title of Ross' exhibition, which is pulled from Friedrich Nietzsche, the late 19th century German philosopher who has been thoroughly (mis)read for his examinations of religion, morality, and the nature of the self. He was thinking and writing at a time of great upheaval in Europe and his writings continue to take hold in times of uncertainty, when seemingly commonsense definitions of morality, ethics, and politics can feel the most unhinged, making us, in turn, feel uncertain of ourselves. When the water comes to light out of the well of my self is not, however, a Nietzschean exhibition: it does not engage with the (sometimes-contradictory and always Euro-masculinist) proclamations about radical individualism and critiques of systematized governance that Nietschze was famous for. What Ross does do is take up Nietschze's subtle invitation to think critically about the productivity of entanglement: that water and light may be distinct entities but they are in a blurry loop with one another, and with a measure of work—of stillness and reflection—a possible self emerges, only to make way for the water to come to light yet again.
Ross' exhibition crafts multiple, overlapping environments that situate us deeply within this process of producing the self amidst the objects and containers that we surround and are surrounded by. They draw us in with the seductive allure of screenglow and the repetitive loops in their animations, pairing them with the comforting familiarity of well-hewn sculptures that read wood, metal, and textile together. Yet they continually press against our reliance on satisfaction therein. Their photographs, in particular, demand a kind of focused attention from our brains working to resolve blur, static, lack of focus, and/or blur. Ross' management of our expectations for satisfaction—that a loop will productively conclude, that there will be seamless rendering of a digital form, that we will be able to comfortably inhabit a sculpture, that we will come away fully knowing an artwork—enhances their longstanding interest in crafting environments that picture black liberation as not only possible but fully inhabitable. It is here, however, where When the water comes to light out of the well of my self is not merely an architectural prescription for what this black liberation might look like or where it might manifest. It is just as much a complete staging of what it feels like to not yet have access to that object, but to occupy the full affective, sensory-motor disorientation that is the very condition of the container that structures it.
//
kemi adeyemi
thinking/writing/teaching @ the university of washington, seattle
Supported by the Springfield Arts Commission Heritage Arts Grant

Return to the Great Mother's Infinity
Oct 5 - Nov 2, 2019
Return to Great Mother's Infinity

is a traveling exhibition and blanket lending library creatd by Jovencio de la Paz.

The library currently includes contributions by:
Cathy Barnes
Seah Choo Fen
Yana McClinton
Jeanne Medina
Jovencio de la Paz
Marilyn Robert
Joan Swift
Kokking Ying
Supported by the Springfield Arts Commission Heritage Arts Grant

Lambert's
Spectacles
Anastasia Douka & Angharad Davies
Apr 6th - 27th, 2019
A man is swallowed alive, his spectacles fall from his face, yet he opts to stay inside. This extraordinary incident is recounted in F. Dostoevsky's short story 'The Crocodile'.

The crocodile rose to the surface over the course of several months in which images and words were exchanged between Anastasia Douka in Athens, Greece and Angharad Davies in London, UK. In response Davies and Douka created a series of drawings and paintings addressing landscape perspectives through the eyes of a human and the eyes of an animal. These landscapes fluctuate between architecture and anatomy, or in other words, how one chooses to remain inside the crocodile.

Angharad Davies
Angharad Davies' interests lie in notions of consensus, continuity, restraint and intervention involved in and with architecture. She studied at the Glasgow School of Art (UK), the School of the Art Institute of Chicago (USA), and the School of the Architectural Association (UK). She currently lives in London, UK.
www.angharad-davies.com
Anastasia Douka
Anastasia Douka believes that everything constructed can break, be reconstructed and then break once again (or at least it has the potential to). She studied at the Akademie der Bildenden Kunste (Austria), the Athens School of Fine Arts, (Greece) and the School of the Art Institute of Chicago (USA). She lives and works in Athens, GR.
anastasiadouka.wordpress.com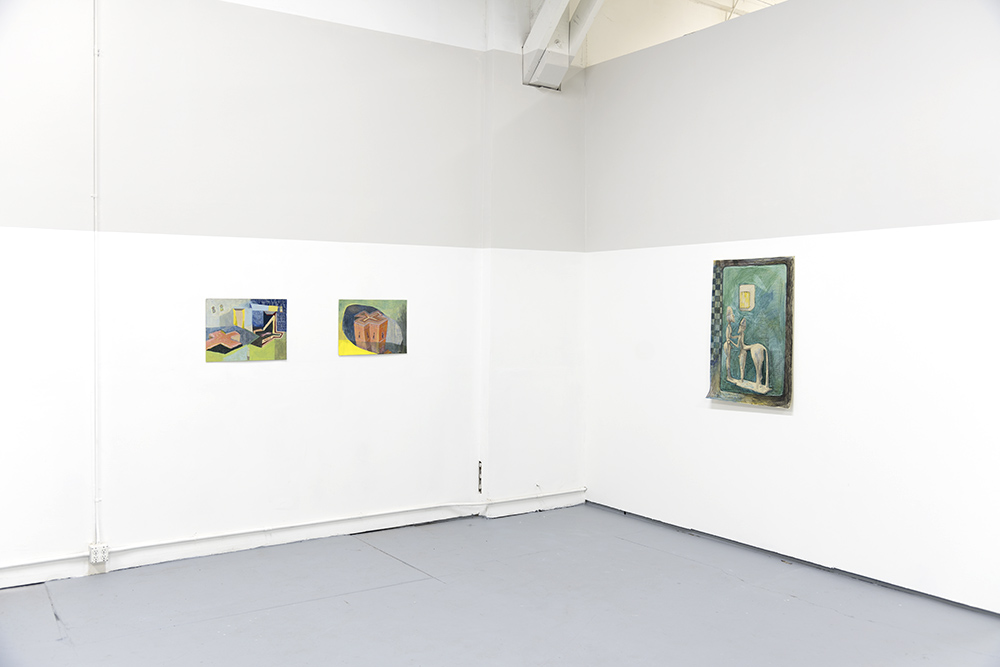 Catalog of Traces
Saturday, June 15th from 6-8 PM
CATALOG OF TRACES - ONE NIGHT ONLY!

Particles of dust--pollen, dander, fibers, tiny and various forms of refuse--are everywhere, but escape our attention until they are allowed to accumulate. In collective form, it acts as an index of what has been left alone. Michael Marder describes dust as a "catalog of traces" (where this show gets its title). The work from the emerging artists in this exhibition represent diverse responses to dust, in both its material and metaphorical registers. From the Book of Genesis ("to dust thou art, to dust thou shalt return") to oft-quoted adages attributed to Auerbach and Picasso (music or art "washes away from the soul the dust of everyday life"), dust has found its way into our universal imagination. But it is equally part of more mundane maintenance in the space where this work is shown: as interns and volunteers, these artists have also spent time interacting with dust in less-touched corners and surfaces of Ditch. This exhibition itself serves as a surface where the particulate of these artists' practices can aggregate and leave a trace.

Featuring work by:
Daniela Cardenas-Riumallo
Elijah Denker
Shelley Gaske
Doug L. Hatano
Jordyn Morrell
Elijah Roth
Allison Schukis
Hayan Yoon

Curated by:
Claren Walker