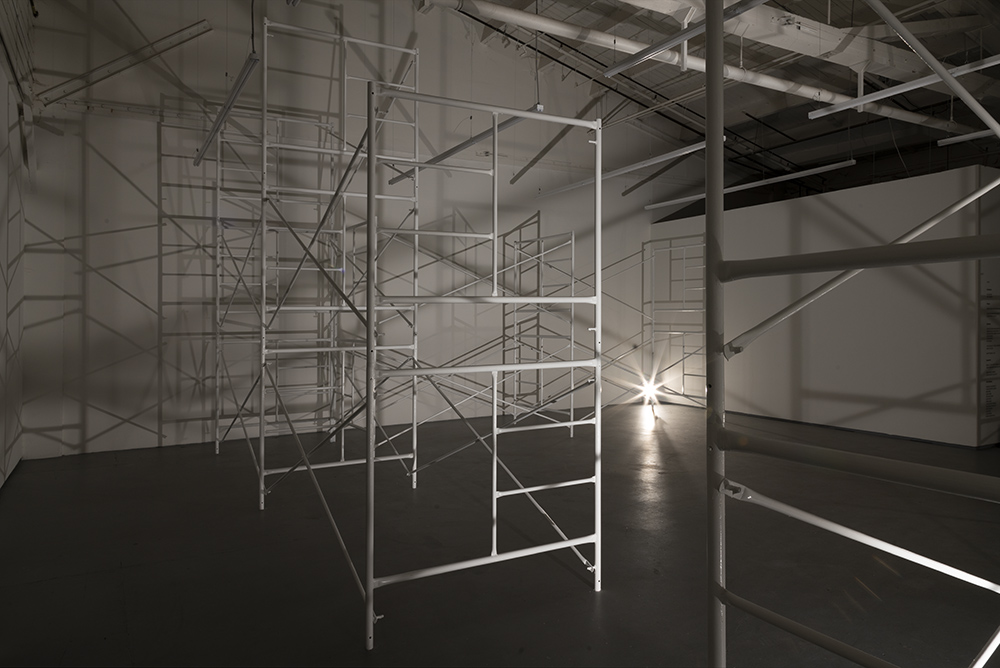 #FFFFFF,
is the fourth iteration of the 'Scaffold Series'. In these site-specific installations, utilitarian structures (scaffolds) are transformed into objects of beauty by their altering color and formation in response to site. In so doing they cease to be objects of function and become instead objects of their own being.
The first two installations of this series were completed in Mumbai, India (
Another Documentation
, 2012) and Astoria, Oregon USA (
Mineral Spirits
, 2016).
The third and most recent,
A Pink Scaffold in the Rann
, highlighted the vast landscape of the Rann of Kutch in India (the White Salt Desert). Through a grand gesture, evident in its large scale, it embraced pink, a dominant color during sunrise in the Rann, and also popular in the local crafts.
#FFFFFF
further advances the 'Scaffold Series'. Here the scaffolds are painted in a glossy white and arranged with a deliberate attention to pure form, in response to the interior of Ditch Projects and the seeming quietness of the space.
Stage lighting creates dramatic shadows leading to a dance with positive and negative spaces and shapes. The physical weight of this tall white structure is visually altered as it blends into the white space, while the ethereal shadows become more visible and present.
Modified field recordings, projected intermittently in the space, are interrupted by stretches of silence. Generated from the construction and painting of the scaffolds, they further dodge our sense of space and place, absence and presence.
#FFFFFF
is the
code for white in the hexadecimal color system used in HTML and other computing applications to represent colors.
---
Avantika Bawa is based in Portland, OR, and often resides in her hometown, New Delhi, India.
Bawa has an MFA in Painting from the School of the Art Institute of Chicago and a BFA in the same from the Maharaja Sayajirao University of Baroda, India.
She has participated in the Skowhegan, U Cross, MacDowell Colony, Kochi Biennial Foundation and Djerassi residencies among others. Noteworthy solo exhibits include shows at The Portland Art Museum, OR, Schneider Museum, Ashland, OR, Suyama Space, Seattle, WA, The Columbus Museum, GA; Saltworks Gallery and the Atlanta Contemporary Arts Center, Atlanta, GA; Nature Morte and Gallery Maskara in India; White Box, Tilt Gallery & Project Space and Disjecta, Portland, OR.
In April 2004 she was part of a team that launched
Drain
- Journal for Contemporary Art and Culture, where she still serves as part of the Managerial and Editorial board. In 2014 Avantika was appointed to the board of the Oregon Arts Commission. She is currently Associate Professor of Fine Arts at Washington State University, Vancouver, WA.
www.avantikabawa.net