curated by Masami Kawai
Screening Saturday, Sept 5th @ 9pm
Ditch Projects is pleased to present
Prism
curated by Masami Kawai and featuring short films by
Sky Hopinka
,
Iyabo Kwayana
, Alisha Mehta, and
Adam Piron
.
The drive-in style projection starts at 9pm. There will be a limited number of marked parking spaces and social distance circles to watch projections. For everyone's safety there will be no indoor or bathroom access, BYOB, masks are required if outside of your car.
*The screening is free but donations appreciated

Practice
/ Iyabo Kwayana / 2018 / China / 10min
Filmed near the Shaolin Temple in Henan, China,
Practice
is a visual metaphor that moves from the mundane realm of arduous and repetitious rehearsal to the fantastic fulfillment that comes as a result. Told non verbally and without a main character, "Practice" is an immersive guided meditation into a simple moment in time that relays brief and diverse experiences of a group of students engaged in a collective process.
Yellow
/ Adam Piron / 2019/ USA / 8min

This experimental documentary short lays out a triptych of the Kiowa Tribe, triangulating tribal language lessons, the meaning of landscape and space.
Losing Light
/ Alisha Mehta / 2019 / USA / 7min
Off the edge of Highway 138 lies an old telephone relay station. The space lies witness to the incessant passing of freight trucks and travelers. As the sun sets patterns of light and shadow emerge but the rumble of the highway continuously intrudes on the rhythms within.
Losing Light
is a portrait of a house I once lived in.
Fainting Spells
/
Sky Hopinka
/ 2018 / USA / 11min
Told through recollections of youth, learning, lore, and departure, this is an imagined myth for the Xąwįska, or the Indian Pipe Plant - used by the Ho-Chunk to revive those who have fainted.
Dislocation Blues
/
Sky Hopinka
/ 2017 / USA/ 17min
An incomplete and imperfect portrait of reflections from Standing Rock. Cleo Keahna recounts his experiences entering, being at, and leaving the camp and the difficulties and the reluctance in looking back with a clear and critical eye. Terry Running Wild describes what his camp is like, and what he hopes it will become.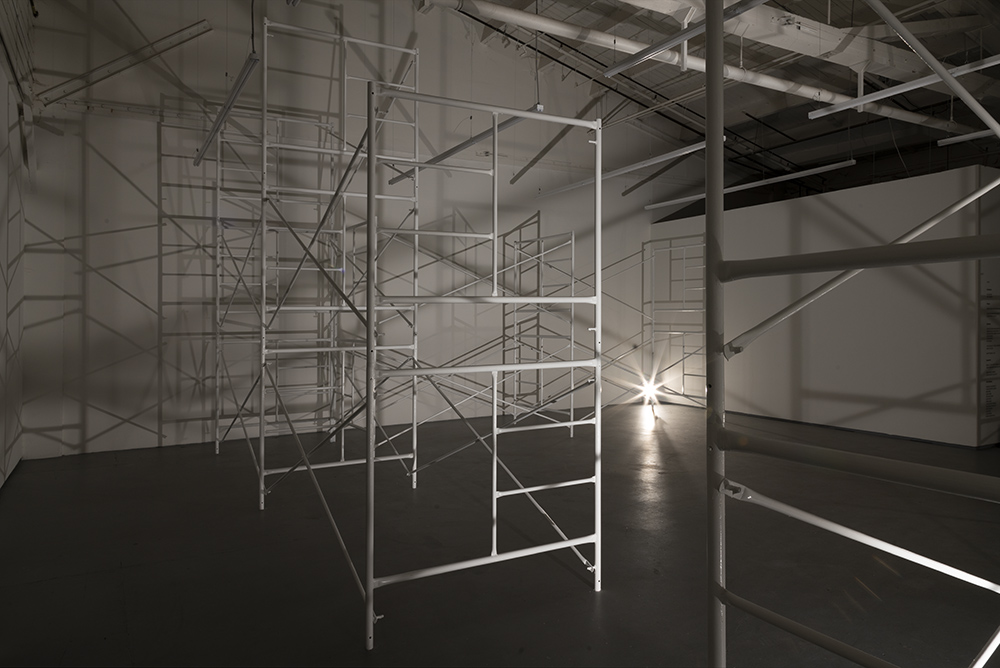 #FFFFFF,
is the fourth iteration of the 'Scaffold Series'. In these site-specific installations, utilitarian structures (scaffolds) are transformed into objects of beauty by their altering color and formation in response to site. In so doing they cease to be objects of function and become instead objects of their own being.
The first two installations of this series were completed in Mumbai, India (
Another Documentation
, 2012) and Astoria, Oregon USA (
Mineral Spirits
, 2016).
The third and most recent,
A Pink Scaffold in the Rann
, highlighted the vast landscape of the Rann of Kutch in India (the White Salt Desert). Through a grand gesture, evident in its large scale, it embraced pink, a dominant color during sunrise in the Rann, and also popular in the local crafts.
#FFFFFF
further advances the 'Scaffold Series'. Here the scaffolds are painted in a glossy white and arranged with a deliberate attention to pure form, in response to the interior of Ditch Projects and the seeming quietness of the space.
Stage lighting creates dramatic shadows leading to a dance with positive and negative spaces and shapes. The physical weight of this tall white structure is visually altered as it blends into the white space, while the ethereal shadows become more visible and present.
Modified field recordings, projected intermittently in the space, are interrupted by stretches of silence. Generated from the construction and painting of the scaffolds, they further dodge our sense of space and place, absence and presence.
#FFFFFF
is the
code for white in the hexadecimal color system used in HTML and other computing applications to represent colors.
---
Avantika Bawa is based in Portland, OR, and often resides in her hometown, New Delhi, India.
Bawa has an MFA in Painting from the School of the Art Institute of Chicago and a BFA in the same from the Maharaja Sayajirao University of Baroda, India.
She has participated in the Skowhegan, U Cross, MacDowell Colony, Kochi Biennial Foundation and Djerassi residencies among others. Noteworthy solo exhibits include shows at The Portland Art Museum, OR, Schneider Museum, Ashland, OR, Suyama Space, Seattle, WA, The Columbus Museum, GA; Saltworks Gallery and the Atlanta Contemporary Arts Center, Atlanta, GA; Nature Morte and Gallery Maskara in India; White Box, Tilt Gallery & Project Space and Disjecta, Portland, OR.
In April 2004 she was part of a team that launched
Drain
- Journal for Contemporary Art and Culture, where she still serves as part of the Managerial and Editorial board. In 2014 Avantika was appointed to the board of the Oregon Arts Commission. She is currently Associate Professor of Fine Arts at Washington State University, Vancouver, WA.
www.avantikabawa.net
Anna Kristensen
Feb 1st - Mar 1st, 2020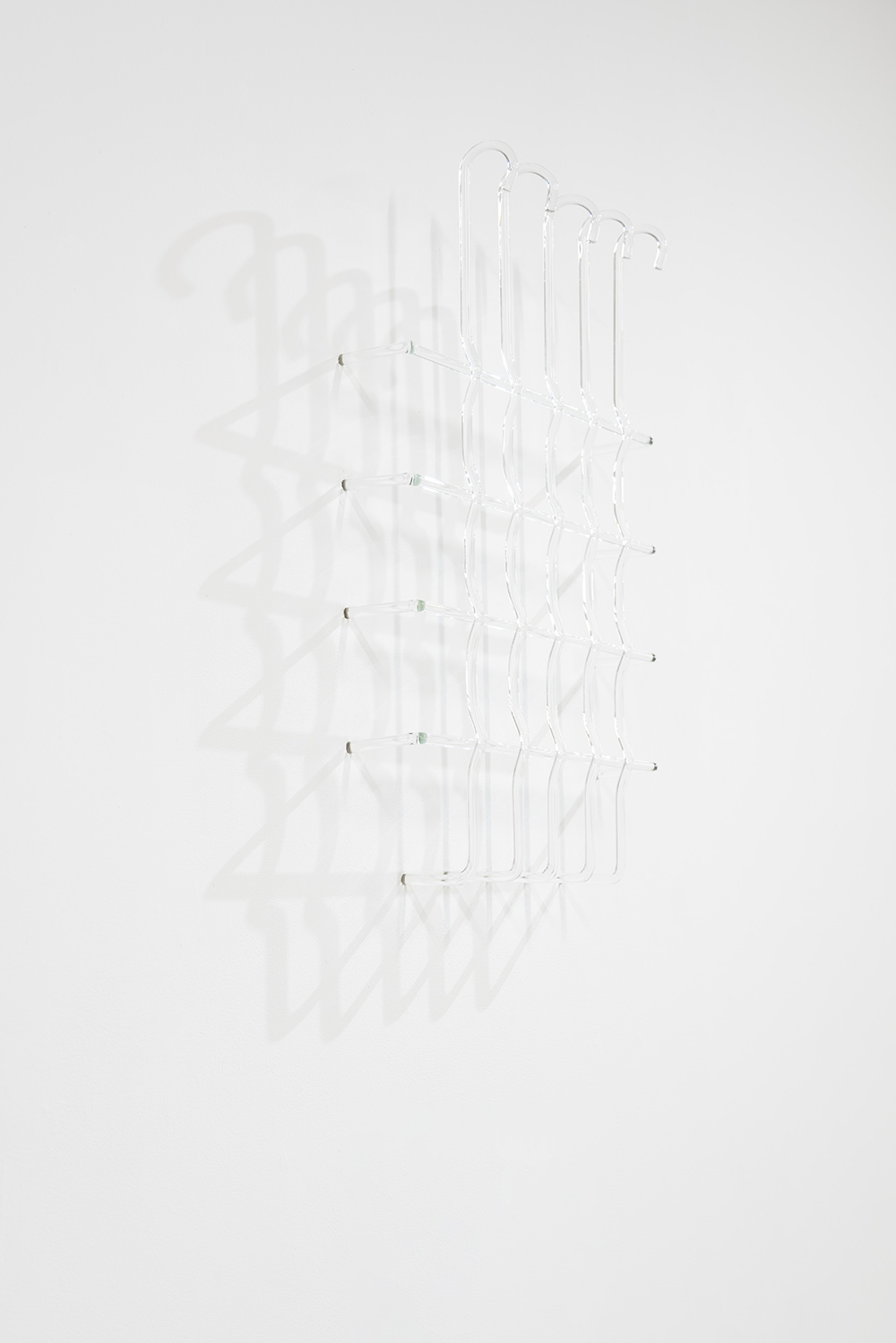 But then what are you up to with these images and objects that seem to speak so calmly? I think it's this appreciation of making a method out of moments that I find intriguing; of unhurrying time; of turning distractions into acts of attention, details into events, where each object or image is a riddle to the discipline, labour and patience that it takes to make it. In this way (I hope you don't mind me saying) there's something very untimely about this work. I'm not talking about the paintings speaking back to the history of photorealism (which, if not ignored completely these days, is usually a punching bag in theoretical debates that have always seemed too rehearsed for my liking). Nor does it seem all that necessary to consider your glass sculptures from within traditions of minimalism (these objects don't exactly reject representational content and craftsmanship). No, I'm talking about the way your process refuses a dominant version of time that by its very nature and implementation is rushed, extractive and heavy. Rather than abiding by the logic of the audit where "moments are the elements of profit" (Marx quoting a factory report in Capital) your work affords a slowness and care to moments in the form of objects and images. And if we all have to participate, in some way, in what Marx called usurped time, I want to suggest that, by working in the way you do, you somehow return time as form.


An excerpt from 'A Window is a Verb' by Tom Melick, for the occasion of Set, Ditch Projects 2020, booklet published by Cooperative Editions and Anna Kristsensen


Anna Kristensen (b. 1983, Sydney, Australia) lives and works in Brooklyn, NYC. Set is her first solo exhibition in the US, and was developed on residency at the Vermont Studio Center and Mass Moca in 2019, and at Urbanglass, Brooklyn. The exhibition is funded in part by an Australia Council Career Development Grant. Anna received an MFA from the University of NSW Art & Design, Sydney, in 2009, where she taught from 2009-16. She has undertaken residencies at Art OMI, NY (2017), The Australia Council for the Arts' Greene Street Studio, NYC and the Bemis Center for Contemporary Arts, NE (2013). Her work has been exhibited internationally and is in the collection of the Art Gallery of Western Australia, Artbank, the Cruthers Collection of Women's Art, University of Western Australia, Shepparton Art Museum and Wollongong City Gallery. Anna is represented by The Commercial, Sydney and teaches painting at Rutgers University, Newark NJ.


www.annakristensen.com.au